Posts for: April, 2015
By John Chaney, D.D.S.
April 23, 2015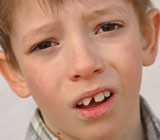 As the Boy Scouts say, it's best to be prepared. You may never have a traumatic injury to your teeth. But what if you do? Here are four questions and answers about such injuries and their treatment that may be helpful some day.
What are traumatic injuries?
We are talking about physical damage caused by a fall, an accident, or a blow to the face. The word trauma comes from the Greek root meaning "wound."
A traumatic injury can also cause broken, cracked, or split teeth, or a fracture to the root of the tooth. A tooth may be dislodged from its proper position, pushed sideways, out of or deeper into its socket. It may even be completely knocked out of your mouth.
What should you do if your tooth is knocked out?
With proper treatment, the tooth can be restored to its original place. You must handle the tooth gently and seek professional help as soon as possible. Rinse the tooth in cold water if it is dirty, but do not use any cleaning agent. Avoid touching the root. While hurrying to your dentist, keep the tooth from drying out by keeping it in a container of milk or of your saliva, or by holding it in your mouth between gum and cheek. It is vital to keep the tooth's living tissues moist until it can be professionally assessed and replanted in its socket. If a tooth has been dislodged but not knocked out, it must be repositioned in its socket and may be stabilized with a splint.
Who can treat a tooth that is damaged by a traumatic injury?
A general dentist, an oral surgeon or an endodontist is trained to treat such injuries. An endodontist is trained to treat the root canal(s) inside a tooth. The word comes from "endo" the Greek word for "inside," and "odont," the word for "tooth." After a tooth is replaced in its socket and stabilized, root canal treatment is often needed.
What is root canal treatment?
A tooth is composed mostly of dentin, a living tissue. The top part or crown is covered by hard mineralized enamel. The soft tissue inside the tooth, the pulp, contains blood vessels, nerves and connective tissues. It extends from the crown to the tip of the roots. Treatment of dental pulp injuries is called root canal or endodontic treatment and is usually needed to treat teeth that have been dislodged or fractured.
Contact us today to schedule an appointment to discuss your questions about injuries to teeth and related nerve damage. You can also learn more by reading the Dear Doctor magazine article "Trauma & Nerve Damage to Teeth."
By John Chaney, D.D.S.
April 08, 2015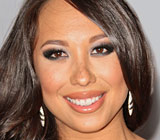 If you've ever watched Dancing with the Stars on television, you've no doubt noticed the vivacious and talented Cheryl Burke, whose ballroom dance moves are as captivating as her bright smile. In fact, Cheryl considers her smile to be one of her most important assets as a professional dancer.
"As a performer, you're basically smiling the whole time," Cheryl told Dear Doctor magazine recently in an exclusive interview. "It's just really important to take care of your teeth and have a great smile."
Cheryl is very conscientious about caring for her smile, but that wasn't always the case. In the Dear Doctor interview, Cheryl revealed that her teeth suffered from ineffective oral hygiene when she was younger. "I definitely had my share of cavities," Cheryl recalled, adding that she believed this was her own fault. "I didn't use floss," She explained. "I think when you do floss frequently, it helps to reduce the chances of getting cavities. It took me a while to figure it out."
Once Cheryl did figure it out, she was able to make cavities a thing of the past. But in order to make sure the effects of her prior tooth decay did not mar her lovely smile, she made sure her dentist — who is also her stepdad! — gave her tooth-colored fillings that could not be distinguished from the surface of a natural tooth. "It's important for me," Cheryl said.
Lots of dental patients feel the same way, even if they don't spend time in front of television cameras. That's why the dental profession has developed tooth-like materials such as composite resins and porcelains that mimic natural tooth material exactly. These materials are also suitable for children's teeth and can incorporate fluoride to reduce tooth decay. It's even possible to replace old silver-colored fillings with these newer dental materials.
If you would like to learn more about tooth-colored fillings, please contact us to schedule an appointment for a consultation. To read Dear Doctor's entire interview with Cheryl Burke, please see "Cheryl Burke." Dear Doctor also has more on "The Natural Beauty of Tooth-Colored Fillings."